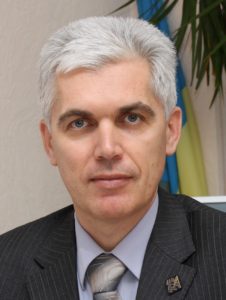 Professor (part-time) of Department CITAM, Dean of the Faculty of Automa­tics and Computerized Technologies, Dr. tech. Sciences, Professor, Laureate of the State Prize of Ukraine in the field of education
Education and Career
In 1983 he graduated from Kharkiv Institute of Radio Electronics, specializing in the design and manufacture of radio electronic devices (diploma with honors).
From August 1983 to December 1984, he worked as an engineer at the Design Bureau of the "Electro instrument making" (Kharkiv).
Since November 1986 he has been working at the Kharkiv Institute of Radio Electronics at the Department of Technology and Automation of the Production of Radio Electronic and Electronic Computing Means: junior researcher (1986-1989), researcher (1989-1991), assistant (1991-1993), senior lecturer (1993 – 1995), associate professor (1995-2000), doctoral student (2000-2003), assistant professor (2003-2005), professor (September-October 2005).
In 1995 he defended his Ph.D. thesis at the Specialized Scientific Council of the Research Institute of Instrumentation Technology (RIIT).
In 2004 he defended his doctoral dissertation in the Specialized Scientific Council of the RIIT on the specialty "Automation of Management Processes".
2007 – Assigned the academic title of professor at the Department of Technology and Automation of the Production of Radio electronic and Electronic Computing Devices.
From 2005 to present – Dean of the Faculty of Automation and Computerized Technologies.
---
Educational activities
Teaches courses: «Automation of financial and economic analysis», «Automation of payment operations», «Automated technologies of analysis and design», «Technical means of banking systems and their exploitation».
---
Research activities
Scientific interests – automated technologies of production and control of components for fiber optic information systems, micro-opto-electromechanical systems (MEMS, MOEMS), automation and control in the technology of electronic means.
He directs the training of masters and philosophy doctors, is a member of two specialized councils for the protection of doctoral thesis. The results of scientific research are introduced at the State Enterprise "Radio relay". He was the responsible executor of seven research works, which were carried out in KNURE by the state order.
---
International activities / participation in international projects
He took part in organization of cooperation with world famous companies LG Electronics, FESTO, JABIL Circuit, FLEX, Philip Morris, Siemens PLM, Autodesk, Phoenix Contact, National Instruments, Texas Instruments.
---
Social activities 
Academician of International Applied Radio Electronics Academy, Member of 2 Specialized Councils for Doctoral Thesis's Defense.
---
State Awards
Scholarship of the Cabinet of Ministers of Ukraine to young scientists, (1994);
Honorary Diploma of the Ministry of Education and Science of Ukraine (2009);
Certificate of honor from the Kharkov city Mayor (2010);
Sign "Excellence in Education" (2018).
---
Publications and patents
Publications - 140.