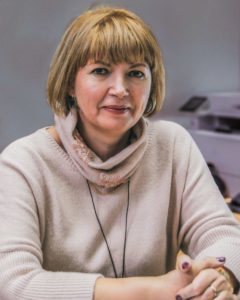 Professor Department, PhD, Associate Professor
Education and Career
1985 – graduated from Kharkiv Institute of Radio Electronics, specialty – Applied Mathematics.
2001 – graduated from the National University of Internal Affairs, specialty – Law.
1996 – Candidate of Engineering Science for specialties 05.13.04 – automated control systems and information processing systems Thesis: Methods of geometricinformation processing in the simulation of thermomechanical fields.
2002 – Associate Professor of the Department of Informatics.
Researcher activity
Scientific interests:
automatic problem solving;
processing information;
programming.
Publications and patents
Has over 100 publications, including 5 workbooks.